Blackmagic Design HyperDeck Shuttle HD
The desktop HyperDeck that's the perfect live production clip player and master recorder!
HyperDeck Shuttle HD is a recorder and player that's designed to be used on the desktop! That means it's more than a master recorder as it can also be used as a clip player. The large search dial is perfect for scrolling through lots of media to find the clip you want to play. You get support for ProRes, DNx and H.264 files in NTSC, PAL, 720p and 1080p video formats. The HDMI connections allow connection to switchers, cameras and monitors. Plus SD cards, UHS-II cards and USB-C external disks can be used for recording and playing media. HyperDeck Shuttle HD uses the same design as ATEM Mini Extreme, so it's a perfect combination to use as a media player. It even has a built in teleprompter!
Elegantly DesignedProfessional Broadcast Deck
HyperDeck Shuttle HD is perfectly designed for the desktop. This means the front panel can be operated with a single hand! The gentle angle allows your hand to rest on the search dial, and the control buttons are positioned under your fingertips. The design is the same depth and angle as ATEM Mini Extreme, so they match perfectly when used together! Scrolling media is fast as the machined metal search dial has a natural inertia, and the soft rubber surface feels nice to the touch. That's perfect when you're searching through lots of media. Plus, the buttons are the same design as traditional broadcast decks. The rear panel includes all video, power, network and control connections.
Perfect for Live ProductionMastering and Clip Playback!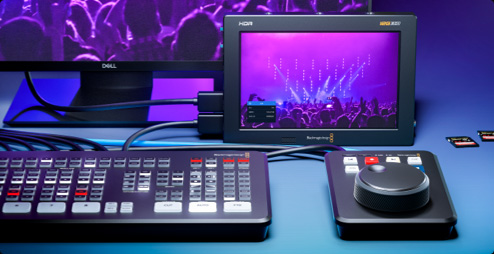 Mastering Recorder
With support for H.264, ProRes and DNx files, you can record true broadcast masters! You can even select between PCM or AAC audio. That's perfect for higher quality mastering when used with ATEM Mini switchers. You get everything needed to send shows to broadcasters and for uploading to YouTube.
Media Player
The large search dial lets you visually browse your clip library. Then you can use the previous clip button to cue to the start of the clip. After playing, you can use the clip button to stop the playback at the end of the clip. ATEM switchers can even remote control HyperDeck Shuttle via Ethernet!