A new way of thinking: The CueScript teleprompter range blends style and practicality, resulting in a balance of design for purpose and performance, with ingenuity and quality.
CSM15 – 15″ CUESCRIPT CSM TELEPROMPTER MONITOR
The CueScript CSM15 prompter is for use in studio as well as on location. The sleek design has an integrated mounting system allowing for quick, easy setup and the LED high brightness screen means clarity of the autocue isn't impaired if shooting in daylight.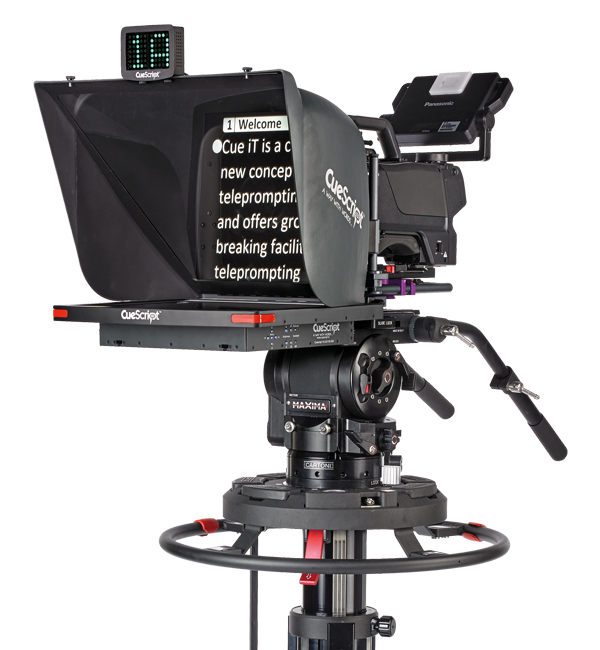 CSM17 – 17″ CUESCRIPT CSM TELEPROMPTER MONITOR
CueScript's CSM17 is ideal for studio use and with the lightweight, low profile design and integrated mounting system, this 17″ monitor is a great option for a larger prompter on location. Features include low energy consumption, 3 mode power start up and adjustable brightness LED wrap-around cue lights.
CUE IT SOFTWARE
A truly operator and production friendly prompting software has been born! CueiT has been developed with a deep understanding of what it is to be a prompt operator.
Having had hands on experience, the development team share a vast knowledge from the studio floor to newsrooms and corporate work alike.
Simplicity of visual content, yet intensely packed with necessary and useful features, all of which can be easily viewed and accessed within the one screen – that was the task we gave ourselves and achieved in CueScript style. CueiT has a very different structure to that of other major prompting software, but upholds a familiar feel that is extremely user friendly.
Got a question about CueScript products? Get in touch!